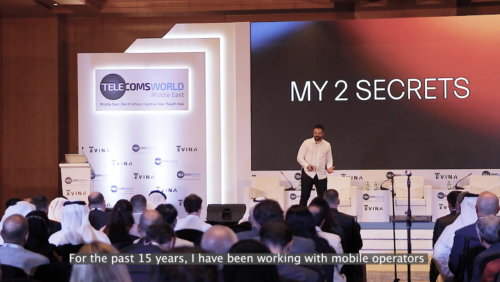 Telecoms World Middle East in Dubai was one of the biggest telecom events of the year. It brought together top telco executives to discuss the strategic future of the industry, which faces the challenge of reinventing itself.
The fil rouge of all the opening talks was the need for diversification.
The CEO of Etisalat UAE, Masood Mohamed Sharif, explained how important it is for telcos to become tech companies and offer higher value-added services, beyond simply providing internet access.
The COO of Vodafone Qatar, Diego Camberos, pointed out that despite the increase in connectivity demand, revenues were not growing at the same rate. And that in order to match the value, telcos need to invest in additional services, including fintech.
Our very own Evina CEO, David Lotfi, developed the fintech topic by sharing 2 insights for a successful telco diversification.
The first insight is that telcos have everything they need to become the biggest fintechs in the world.
a) The timing is right: credit cards are dying and the fintech market they would address is worth $12 trillion.
b) They have everything they need to succeed: a huge network, consumer data (KYC, bank account), direct access to the cell phone and a payment method with incredible conversion rates: one-click payment.

The second is that in order to seize this incredible growth opportunity, it is essential to put in place tools that fend off cybercriminals. For too long, carrier billing markets have been closed due to compromised payment security by cybercriminals. Instead of fighting this, telcos have often preferred to stay out of the battlefield, dropping the payments boom or implementing restrictive measures, which has led to more complex payment flows and reduced revenues.
Telcos can become fintechs today, though considering that history is made of missed opportunities, we need to act fast. Cybersecurity allies and telcos can elevate the best possible payment method (one-click payments), and make them even more secure than credit cards.
The insights of David Lotfi have been extremely well received, with several new strategic partnerships with top MNOs formed during the Telecoms World. Among them, the partnership signed with Ooredoo Oman is already public.
Watch David Lotfi's full keynote for more strategic insights.