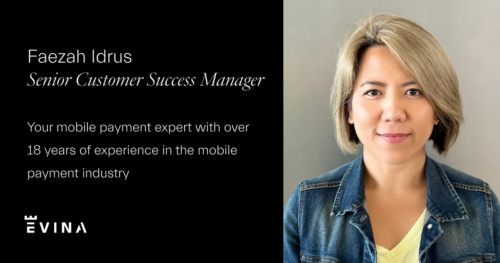 We'd like to introduce you to Faezah Idrus who has recently joined Evina as Senior Customer Success Manager, and has a lot to share on the mobile payments industry.
Faezah is a key asset, bringing her substantial 18 years of experience in the mobile payment industry as a top professional to the customer success team at Evina. Her primary focus has always been to meet the needs of customers, whether it be for business development or to support them in implementing anti-fraud solutions tailored to their goals. We were curious about the insights Faezah had gained into the industry, how she saw mobile payments evolving, and how it could help customers make smarter decisions. Here's what she shared.
What are the major transformations you've noticed in the mobile payment industry?
Today, mobile payment is readily available to more people and it is easier than ever to pay with your mobile. It's the most frictionless micro-payment method on the market, and since almost everyone has a mobile phone nowadays, a large portion of the world's population can use this means of payment. This is the first big change in the mobile payment industry, compared to when I started 18 years ago, when mobile payments still had a long way to go.
Another, less positive change, is that with the increase in mobile payments, we've also seen a rise of fraudulent activities on this payment channel.
I've personally noticed that instead of really understanding the cause of the problem or looking for a solution, mobile operators and regulators have imposed stricter regulations and marketing guidelines. These restrictions simply made it impossible to convert the payment flow in some cases, and in other extreme cases, they've shut down carrier billing altogether.
This solution did work, to a certain extent. Complaint rates went down, but so have conversion rates. If a payment flow isn't attractive, for example the payment page isn't user-friendly, potential users will be less likely to follow through and complete their transaction. Of course, this also means less revenue for the digital merchant, payment aggregator, and MNO. In addition to this, unattractive payment flows are seen as a window of opportunity for fraudsters. They can find ways to deceive the user, such as creating a fake, more attractive payment page on top of the authentic payment page, with a button that tricks the user into subscribing to a service.
Now, where will mobile payments go next?
A few years ago many kept saying that mobile payments would disappear in no time. This was due to the increasing amount of fraudulent activities resulting in merchants getting suspended, cut off, and terminated by the carriers and regulators. But as you may have noticed, mobile payments are still booming. The industry knows how to adapt, new technologies are being invented, and today it's still the most frictionless way to make a payment, when done right. If properly implemented, protected( with the right anti-fraud solutions), and sustained by the right partners, I know mobile payments will continue to flourish. There is still a tremendous amount of revenue to be made.
What advice would you give to businesses that have invested in cybersecurity but are unsure of the effects of anti-fraud solutions on mobile payments?
I would say: you've made an incredible investment. The money you have invested in cybersecurity will come right back to you, and more importantly, it can double. This will leave you with more opportunities to invest in and more room to grow. But for that to happen, you can't partner up with any cybersecurity company. You have to partner with an independent, cybersecurity-focused company, with cutting-edge technology like Evina.
Fraud can really damage your business. Fraudulent traffic not only tarnishes your reputation and product credibility, it will also generate a lot of issues and lost revenue down the road, if not immediately.
Many merchants pay a high price for traffic of unknown credibility because they don't have an anti-fraud solution in place. The ability to optimize your traffic quality and media spend by properly filtering out bad traffic will not only increase your profits, but also protect your revenue. Believe me, all carriers would love to have good, reputable and credible merchants on their side, making revenue with manageable complaints!