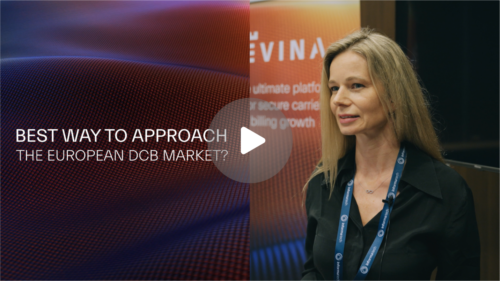 "Quick Talk with DCB Leaders" is a series of bite-sized video interviews presented by Evina and designed to keep you ahead of the curve with the latest mobile payment trends from industry leaders in DCB.
At the recent Global Carrier Billing & Mobile Payments Summit, Evina had the opportunity to connect with industry leaders in the Direct Carrier Billing (DCB) sector to explore current trends and the keys to success in the European mobile payments arena.
In this edition, we we able to get valuable insights into the industry from:
Quick Talk with Petra Mejas from Mondia Pay
Mondia Pay's Commercial Director underscores the expansive opportunities of DCB in Europe. Petras points out its accessibility to both young and elderly users without credit cards, solidifying DCB's position as a preferred payment option.
Quick Talk with Jasper Beelen from Creative Clicks
Creative Clicks' Head of Product Mobile highlights the need for unique premium offerings in the competitive European landscape. Beelen also sheds light on the pivotal role partnerships, like the one with Evina, play in unlocking new markets and enhancing DCB's security.
Quick Talk with Gaby Bosch from Content For Mobile (CFM)
Content For Mobile's CEO touches upon significant European DCB trends, notably the focus of operators on fraud prevention and the inclination towards top-tier gaming products. Bosch contrasts the subscription habits of Middle Eastern consumers, who might juggle multiple subscriptions with Europeans, who exhibit a selective subscription approach.
If you're a DCB executive interested in sharing your DCB and mobile payments insights at the next event featuring Evina, please contact us at [email protected].