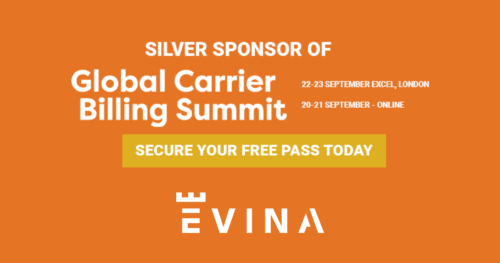 Mobile anti-fraud specialist Evina says it is set to reveal three top industry secrets around carrier billing, cybersecurity and the future of the entire global payments industry at a leading mobile sector summit later this month. Evina has an ambitious vision for the future of mobile operators and a clear understanding of the errors they must not make to remain relevant in the industry.
Evina CEO David Lotfi will reveal additional details gleaned from the Paris-headquartered firm's fight against fraud at the Global Carrier Summit from 20 t0 21 September 2021 online and from 22 to 23 September 2021 in London.
Evina has secured the Silver Sponsor slot for the 2021 installment of this annual mobile industry highlight specifically dedicated to carrier billing and the growth of mobile as a worldwide payment choice for goods and services.
Mr. Lotfi will address mobile carriers, payment aggregators, digital merchants, content providers, regulators and technology providers from across the globe at a time when mobile payment via DCB is growing apace thanks to the digital transformation that has followed the need for people to stay safe remotely. It's not all good news for mobile, however, as professional cybercriminals targeting mobile users remain a significant problem.
Mr. Lotfi will deliver a Summit Sponsor's address on 22 September at 14h10 and also participate in a Panel Discussion on Trust and Security in DCB Payments on September 23 at 10h20. The panel discussion will deal with the latest challenges in the payments landscape, staying one step ahead of the fraudsters and building trust by transforming the perception of DCB as a payment method.
Aside from in-person networking, focused roundtables and expert presentations, a highlight of the upcoming Summit will be the Global Carrier Billing Awards. Here we celebrate the companies, products and individuals driving direct carrier billing success around the world. Please visit here for more participation information: https://tmt.knect365.com/global-carrier-billing-summit/agenda/1/.
About Evina
Evina offers the most advanced cybersecurity for mobile payment, for MNOs, merchants and payment gateways to fend off fraud and conquer new markets. Evina's anti-fraud solutions secure over +16 million transactions in more than 70 countries each day, decrease complaint rates, maximize the number of legitimate transactions, and increase revenues.
Evina's press c​​ontact: [email protected]