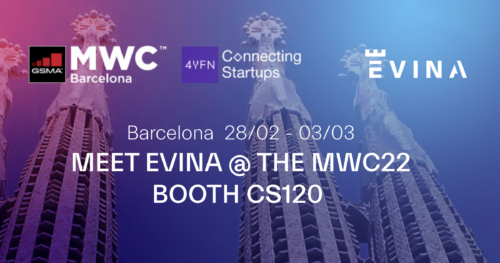 Evina will be at the MWC22 in Barcelona, booth CS120 (congress hall) with the most advanced cybersecurity solutions for direct carrier billing (DCB) and mobile money protection.
This year's MWC is a key moment for the industry, as it will be the largest gathering of industry leaders since the start of the Covid-19 pandemic. David Lotfi, CEO and founder of Evina, says, "The health crisis has accelerated the digitization of the world, including that of online payments and particularly DCB and mobile money. However, in the meantime, fraud has also continued to develop, threatening to undermine the growth of mobile businesses and jeopardizing the overall opportunities of the ecosystem. This is a pressing issue today that needs to be addressed, especially when the market has the right tools to combat fraud and to prosper."
This will be Evina's first event since announcing the €20 million raised in a Series A funding by a New York investor, which will allow Evina to operate on an even larger scale, with perfected advanced technology.
Evina has grown rapidly in the last 3 years, gaining the trust of major industry players such as Orange, Vodacom, Digital Virgo, Telecoming, and many more. During this period, Evina has enabled its partners to achieve outstanding results:
▪️ Orange France decreased fraud by 80%, reduced the complaint rate by 35%
▪️ Proximus decreased fraud by 80%, brought the complaint rate below 1%
▪️ Orange Cameroun decreased fraud by 75%, increased revenue by 30%
▪️ Bouygues Telecom decreased fraud by 92%, increased the transaction volume by 400
In addition, Evina has been recognized through prestigious awards, not only in the DCB sector with the Global Direct Carrier Billing (GCBS) award as Best Carrier Billing Fraud Solution, but also in the telecommunications industry with the Juniper Research award as Best Financial Clearing Solution.
The MWC 2022 is going to be a unique opportunity for all forward-thinking players to come together and take the necessary steps to eliminate fraud, thanks to Evina's massive new investments and sharpened anti-fraud solutions.