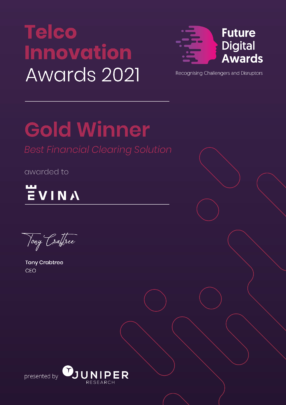 Paris, Feb. 04, 2021 - Evina, the leading specialist in cybersecurity for mobile payment has received the gold award in the Security and Fraud Innovation category at The Future Digital Awards by Juniper Research, the top analyst firm in the mobile and digital tech sector.
This award is the result of Evina's cutting-edge technology – above all industry standards – that allows mobile network operators, payment gateways, and merchants to fend off fraud and increase their revenue while doing so.
This recognition highlights the crucial role Evina's cutting-edge technology plays in securing markets. David Lotfi, CEO of Evina says "At Evina, our mission isn't to only stop fraud, we strive to create a healthier ecosystem that unlocks more efficient payment flows and new business opportunities for all market players."
Evina's gold win shines a light on what the future of cybersecurity holds. The anti-fraud market can no longer function without high-tech tools that know how to differentiate between bots or humans.
Evina has dedicated more than 15 years to develop the most advanced cybersecurity technology for mobile payment. Evina offers an ultrahigh definition 3D footprint that captures online fraudulent behavior, edge computing that treats and stores data closest to the end user, and a global money honeypot network in more than 70 countries that attracts fraudsters and reverse-engineers their mechanisms. The innovation doesn't stop there. The Cyber Threat Intelligence analyzes threats coming from all sources, including the dark web, and the machine learning is continuously fed with over 16 million transactions analyzed every day.
The cutting-edge technology allows to detect 99.8% of fraudulent transactions, decrease complaint rates, and increase the number of legitimate transactions. Evina's passionate team of engineers and extensive database are what make the cybersecurity firm the best anti-fraud tool on the market. This award demonstrates that Evina has become a major international player, alongside long-standing Juniper award winners such Microsoft, Paypal, and Amazon, in the cybersecurity anti-fraud realm.
About Evina
Evina offers the most advanced cybersecurity for mobile payment. Founded in Paris, Evina's anti-fraud technology was created by a group of passionate engineers and monetization specialists for MNOs, merchants and payment gateways to fend off fraud and conquer new markets. Evina's anti-fraud solutions secure over +16 million transactions in more than 60 countries each day, decrease complaint rates, maximize the number of legitimate transactions, and increase revenues.