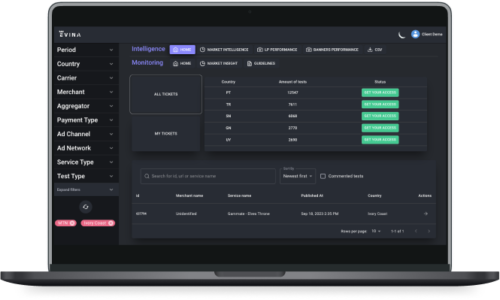 Evina, a leading cybersecurity provider for carrier billing, is pleased to announce the launch of BrandProtect Intelligence, a dedicated tool for market compliance insights to enrich its flagship ad monitoring solution, BrandProtect.
BrandProtect Intelligence is designed to empower businesses with comprehensive insight into market best practices for compliance and marketing positioning. The new feature enables businesses to unlock new revenue streams, streamline compliance checks, and outperform the competition.
"BrandProtect Intelligence is a game-changing enhancement to our ad monitoring suite, meticulously designed to empower our clients with critical insights they need to identify new opportunities and assess potential compliance risks," said Farid Taha, Chief Customer Officer at Evina. "We're confident that BrandProtect Intelligence will go beyond fulfilling client expectations, setting a new standard for market intelligence and compliance management."
Key Benefits
Unlock New Revenue Streams: The feature allows businesses to discover untapped markets and identify potential partnerships, providing the tools to accelerate revenue and business growth.
Streamline Compliance Checks: Businesses can assess the compliance status of potential markets and partners, laying the groundwork for a robust strategic development plan.
Outperform the Competition: Real-time competitive benchmarking and local advertising insights are provided to help businesses maintain a competitive edge.
The homepage integrates seamlessly with the existing BrandProtect platform, offering users a frictionless experience and only shares good compliance practices.
The BrandProtect Intelligence homepage is available immediately and can be accessed through the existing BrandProtect platform.