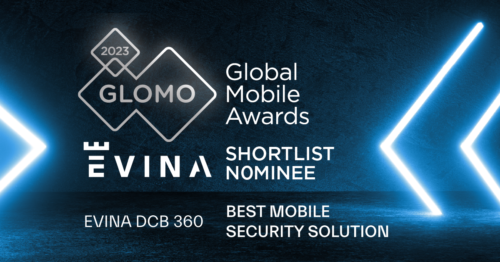 Evina has been nominated for 'Best Mobile Security Solution' at this year's GLOMO Awards by the GSMA and held in conjunction with MWC Barcelona.
This recognition highlights the effectiveness of Evina's proprietary technology, Evina DCB 360, in identifying fraudulent apps faster and more accurately than any other solution. The technology allows Evina to protect over 1 billion mobile users worldwide making a significant impact in the complex mobile cybersecurity market.
"Being shortlisted for the GLOMO Awards is a tremendous vote of confidence in Evina DCB 360 as the ultimate platform for secure carrier billing growth," says Evina CEO, David Lotfi.
Along with Evina, their trusted partners and forward-thinking industry players including Sam Media and mobile operators Orange and MTN, have also been nominated across several GLOMO categories.
The Best Mobile Security Solution award recognizes the companies that are revolutionizing the capabilities of digital technology to safeguard end users and help telecom operators combat fraud. Evina's nomination is sustained by its long track record of helping mobile network operators and other mobile players develop their mobile payment strategies and secure their users through the most advanced cybersecurity technology.
The award ceremony announcing the winners will take place on Tuesday 28th, 6 pm to 7 pm at the Industry City stage at MWC Barcelona. Evina will be onsite during the entire duration of MWC Barcelona, from February 27th to March 2nd, at booth CS120 for industry players to learn more about Evina's business-growing solutions.
For more info: https://www.mwcbarcelona.com/mobile-awards/categories-and-awards