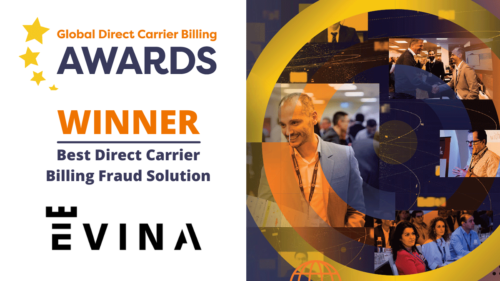 Mobile anti-fraud specialist Evina has walked away with the Best Direct Carrier Billing Fraud Solution at the Global Carrier Billing Summit 2021 for the second year in a row.
The cybersecurity for mobile payments firm which now protects over 16 million mobile billing transactions daily from global cybercriminals thanked the mobile players present for their vote of confidence in Evina, its products and its decade and a half struggle against mobile fraud. Evina's continuous investment in research and development to keep one foot ahead of fraud attempts and market demands has made it possible to offer the industry the most accurate anti-fraud technology.
"Professional cybercriminals targeting mobile users remains a significant problem worldwide but awards like this prove just how seriously the mobile ecosystem is beginning to take the manageable problem of mobile fraud," says Evina CEO, David Lotfi.
The Global Carrier Billing Summit 2021 took place virtually and in London last week. It remains the only world networking platform dedicated to direct carrier billing and it brings together mobile carriers, service aggregators, digital merchants, content providers, regulators and technology providers from all over the globe.
Evina's peers agreed the company's anti-fraud solutions, spearheaded by its flagship Evina DCBprotect product, had no equal as they discussed carrier billing and the growth of mobile as a worldwide payment choice for goods and services.
As a Silver Sponsor, Evina's message at the summit was one of both realism and optimism. There will always be fraud present around digital transactions. However, mobile fraud can be effectively managed with the right tools backed up by solid relationships with the appropriate experts.
Evina offers the most advanced cybersecurity solutions for mobile payments. Founded in France, Evina's anti-fraud technology was created by a group of engineers and monetization specialists for MNOs, merchants and payment gateways to fend off fraud and conquer new markets.