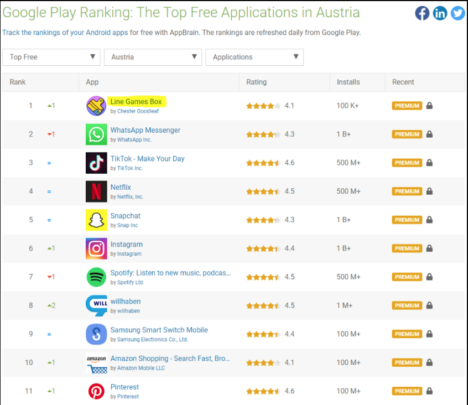 Austria's first most popular free mobile app is malware. That's according to Paris-headquartered anti-fraud solutions provider, Evina, which works to uncover malicious mobile applications worldwide.
Evina today (31 December 2019) unmasked the 'Line Games Box' app by Chester Goodleaf. According to rankings website, AppBrain.com, in Austria, the app has been downloaded over 100 000 times in two days.
"After analyzing the app as part of our efforts to protect mobile ecosystems worldwide, our security experts determined that the Line Games Box app was infected. To protect our clients and mobile users generally, the security analyst team at Evina runs regular monitoring of potential Android-related threats," says David Lotfi, CEO of Evina.
"Our team found the malware by analyzing the app's underlying code using our proprietary malware recognition technology," Mr Lotfi explained.
According to Maxime Ingrao, Evina Security Analyst: "The purpose of most of the malware Evina discovers is to stimulate interaction with adverts and subscribe to premium services without the mobile user noticing."
Typically, embedded URLs and javascript commands redirect to premium services and to sites containing ads from where the fraudsters are remunerated.
"Once again, we see that mobile fraud doesn't have borders. By helping to uncover mobile malware, we are ensuring the long-term sustainability of mobile monetisation" concludes Mr Lotfi.