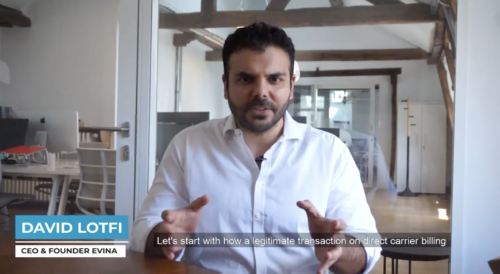 As part of the MEF's DCB for Growth working group, members Evina and digital content monetization expert Sam Media collaborated to spotlight the actual impacts of DCB fraud on the mobile ecosystem and, in particular, its detrimental effect on innovation.
"How DCB Fraud Impacts the Mobile Ecosystem and Curbs Innovation" covers:
How mobile fraud affects mobile players
How legitimate transactions benefit all and how fraudulent ones are the polar opposite
Why fraud is a major roadblock to innovation in the mobile ecosystem
Here's a highlighted excerpt from the video:
David Lotfi, Founder & CEO of Evina
" As the ecosystem is overwhelmed by fraud, market innovation can also come to a halt. Regulators and MNOs will want to complexify their billing process in order to decrease the chances that fraudulent transactions go through. Yet this will limit innovative mobile payment options, such as 1-Click payments, limit the amount of publishers merchants work with, reducing potentially interesting business opportunities, and limit the overall growth opportunity."
The mobile ecosystem could see increased growth, with every stakeholder reaping the benefits, if all were protected against fraud.
Watch and learn how mobile players are not destined to be oppressed by fraud.
We're here to guide you in this fight against fraud.