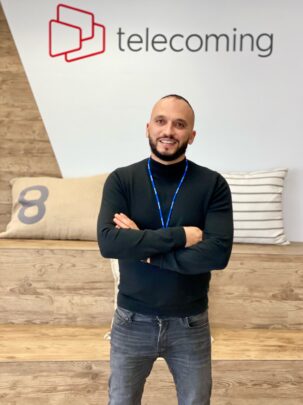 Since the start, Evina's objective has been to protect the end user, mobile payments, and the businesses that make up the mobile payment ecosystem. With Evina Eyewitness, mobile players have been given a precious tool to view in replay exactly what happens on a payment page. We spoke to Mohamed Benhamadi, Managing Director Business Development at Telecoming, leading monetization tech developer, to learn more about how the anti-fraud solution provided by Eyewitness has helped them.
What led Telecoming to be among the earliest adopters of Eyewitness?
At Telecoming, we believe that direct carrier billing (DCB) holds enormous potential to reach new customer acquisition levels. To achieve this, DCB needs to be appropriately secured, and there needs to be more transparency regarding mobile transactions.
We have been experts in DCB since 2008 and leaders in mobile economics because we are committed to innovation. The implementation of Eyewitness is an example.
What do you appreciate most about Eyewitness?
Eyewitness records and identifies all user transactions and behaviour that passes through our web pages to protect the user and optimize our digital marketing investments. We can ensure transparency on all transactions and effectively protect our customers without wasting too many resources on gathering logs and questioning our partners to obtain the necessary information for each transaction.
Eyewitness helps us on assuring our customers and partners of the nature of any transaction. Our customer relationship management has been facilitated. When a user contacts us regarding a specific transaction, we can replay the exact behavior of the user on the webpage.
Thanks to the transparency offered by Eyewitness, we were able to strengthen our relationships with our stakeholders.
What are the main benefits you noticed right away?
The platform is easy to use, quick and most important, proving that a transaction was fraudulent or authentic is effortless. With a single click, we can export transactions and share them with all our partners.
Overall, we've been able to focus on what matters most: growing our business. By having a deeper control, we've optimised our digital marketing investments, identified better acquisition channels, and tested new sources safely.
To uncover the incredible results Evina and Telecoming have achieved together by fighting off mobile fraud, download our case study for free https://www.evina.com/resources/case-study-telecoming-x-evina/